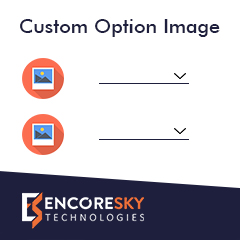 Magento CE, EE 2.1.x, 2.2.x, 2.3.x
Extention Features
To Display image in Magento 2 custom options. Custom Option Image module makes the product options presentation very attractive and impressive by adding the images. It also enhance your store visitor's shopping experience by adding images to product custom options.
1. Add images to product's custom options.
2. Easily assign and edit particular image for different custom options of select type (Drop-down, Radio Buttons, Checkbox, Multi-select).
3. Set image label for every custom option variant.
4. Fully based on ajax call, so no need to reload page.
5. Easily customize view of custom option image as needed via module configuration options.
6. Work with simple, configurable, bundle, downloadable and virtual products.